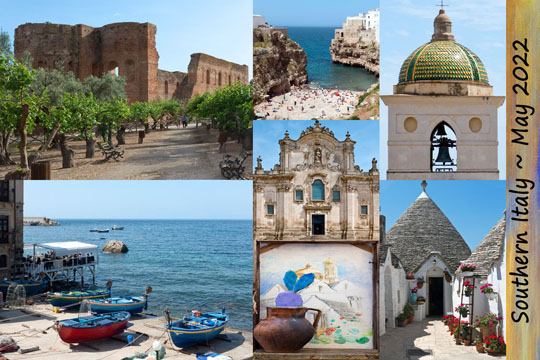 Southern Italy, May 2022 ~ It had been a 2 year respite since I traveled, all because of Covid concerns. Then in May of 2022 I joined Road Scholar for a visit to Southern Italy. It was my inaugural trip with them, and it certainly won't be my last. Simply a brilliant holiday. Our small group of 16 explored 24 cities for its culture, while overnighting in Lecce, Martina Franca, Matera, Cosenza, and Catanzaro Lido. We had fine weather and we dined on delectable Southern Italian cuisine. View the complete photo album.
Pics L->R: (1) Basilica of Saint Mary of the Roccella, (2) Seaside in Reggio Calabria, (3) Lama Monachile Beach in Polignano a Mare, (4) Church of San Francesco d'Assisi, (5) Locorotondo Street Art, (6) Bell Tower of Cathedral of Maria Santissima Achiropita in Rossano, (7) Trullo Home in Village of Alberobello.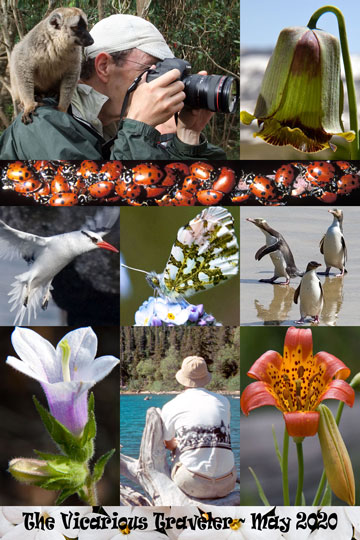 Vicarious Traveler, 2020 ~ Life was paused by the coronavirus, thus travel was entrusted to historic moments. L->R: (1) Student/Teacher on Madagascar's Lemar Island (2013), (2) Lily (2015), (3) Naked Ladies (2006) (4) Red-billed Tropicbird (2007), (5) Orange-tip Aurora Butterfly (2005), (6) Yellow-Eyed Penguins (2008), (7) Purple Gentian (2015), (8) Ptarmingan Lake (1990), and (9) Tiger Lily (2009).
Asia, 2019 ~ After visiting China for 3 weeks in October, I traveled in November to Vietnam (1 week), Thailand (2 weeks), & Singapore (few days). View the complete photo album.
Pics L->R: (1V) Halong Bay, (2V) Stairway to Heaven at Ninh Binh NP, (3T) Khao Yai NP, (4T) Royal Palace Pavilion, (5T) Elephant Ride, (6S) La Famille de Voyageurs.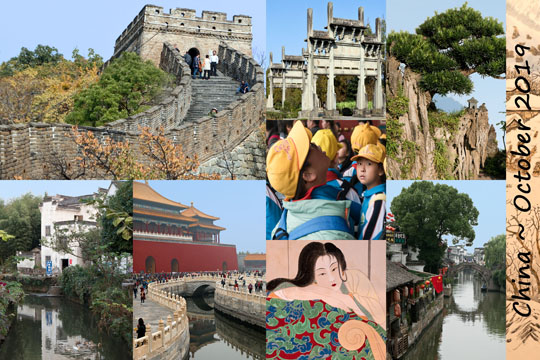 China, 2019 ~ In October of 2019 I explored China with the Sierra Club for 3 weeks visiting wonderful national parks from Shanghai to Beijing. We hiked everywhere, while along the way we enjoyed stupendous Chinese food. View the complete photo album.
Pics L->R: (1) Great Wall, (2) Venice of the Orient, (3) Tiananmen Moat, (4) Memorial Archway, (5) School Outing, (6) Court Lady, (7) Bonsai Landscape, and (8) Huizhou Waterway.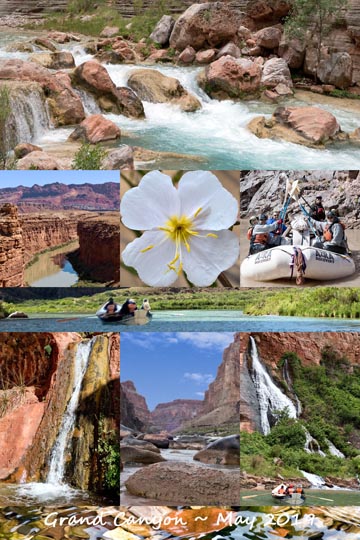 Grand Canyon, May 2019 ~ My third 14-day Colorado River adventure with AzRA, 226 miles of splishy-splashy, great food, many side canyon hikes, stupendous river companions, and hail-to-the-weather. View the full show.
Pics L->R: Havasu Creek, Navaho Bridge View, Evening Primrose, Paddle Raft, Morning Light, Stone Creek Waterfall, Evening Light, Vasey's Paradise, & Pebbles & Ripples.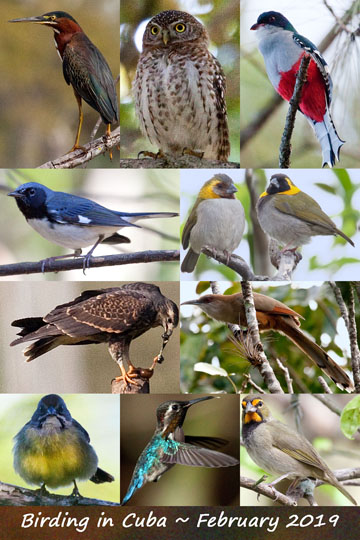 Cuba 2019 ~ In Feburary of 2019 I joined a Sierra Club group for birding in Cuba. Our path took us from Havana to Viñales, Zapata, Trinidad, and Cayo Coco.
Pictures left to right: Green Heron, Cuban Pygmy Owl, Cuban Trogon, Black-Throated Blue Warbler, Cuban Pewee, Snail Kite, Great Lizard-Cuckoo, Western Spindalis, Bee Hummingbird, and Yellow-Faced Grassquit. View the photo album.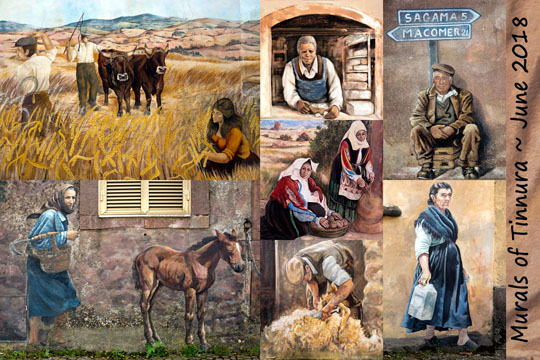 Murals of Tinnura 2018 ~ Tinnura is not on the map of tourism, but is an incredible place to view murals and has a distinction of the village of murals. Its main and many side streets have numerous colourful pictures covering the sides and fronts of houses. While I was there I counted more than 50 murals with a wide range of subject matter. Tinnura is hidden gem and was my favorite place while visiting Sardinia. View all the full photo album.
Malta & Sardinia 2018 ~ In June of 2018 I traveled to Malta for 1 week and to Sardinia for 2. In Malta I visited both its main island and smaller Gozo. In Sardinia I traveled from the far north at Porto Torres to Sassari, Alghero, Bosa, Tinnura for its fabulous murals (view photo album), Oristano, and Cagliari. View the full photo album.
Pictures from top-left down, [M]alta & [S]ardinia: Calgiari [S], Postal Museum art [M], Sassari shopping district [S], San Michele Catholic Church Dome [S], National Gallery mural [S], Blue Hole [M], Sassari Street Art [S], 4th Century Martyr Plaque [S], and Boza rainbow hillside houses beneath title [S].
Sicily 2018 ~ For 2 weeks in May of 2018 I toured Sicily from Palermo to Catania. While there I visited Mazara del Vallo, Valley of the Temples, Villa Romana of Casale, Greek theater of Taormina, Mount Etna, and more. Pics L->R: Temple of Concordia, Bikini Mosaic at Villa Romana del Casale, Mazara del Vallo Street Art, Saint Mary's of the Stairs, Fish Market, and Conquering Mount Etna. View the full show.
Cleveland Way -- In September of 2017 I walked 110 miles along the Cleveland Way circumnavigating the North York Moors in England. Starting in Helmsley I walked across the sometimes dreary high moors interior, then to be treated to stunning panoramic views at the moors plateau edge. Reaching the fabulous North Sea coast I walked from splendid Saltburn-by-the-Sea south to quaint Staithes to Whitby to charming Robin Hoods Bay to Scarborough and ending in Filey. Good eats mostly, fabulous beer always. View the full photo album.
Pics Top->Bottom, Left->Right: (1) Staithes, (2) Hasty Bank, (3) Whitby Abbey, (4) Cleveland Way joins Coast to Coast Path (5) Whitby, (6) Robin Hoods Bay, (7) A day in the park at Saltburn-by-the-Sea, (8) North Sea vista.
Northern Greece, Albania, Macedonia, & Serbia 2017 ~ In June of 2017 I traveled with a group to Northern Greece, Albania, Macedonia and Serbia. Pics [L->R]: Belgrade church, Byzantine warrior, Thessaloniki White Tower, Albania National History Museum façade, Naïve art, Casting a net, Rousanou Monastery, St. George's Church, Farmer's market. View my full photo album.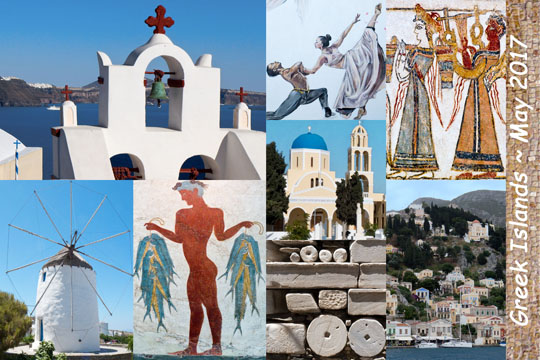 Greek Islands 2017 ~ In May of 2017 I island hopped the Aegean Sea of Greece traveling from Rhodes to Crete to Santorini to Naxos and to Mykonos, with short visits to Symi, Paros, and Delos. Wonderful sights, stupendous food.
Pics [T->B / L->R]: Church and caldera on Santorini, Paros windmill, 1650 BCE fresco, Naxos Ballet, St. George's Church on Santorini, Frankish Castle, 1350 BCE sarcophagus painting, Symi harbor. Share my travel, view my photo album.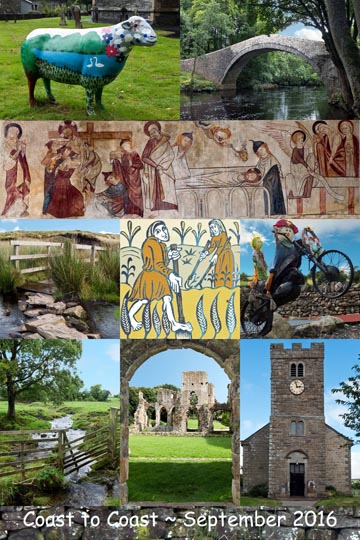 Coast to Coast 2016 ~ A walk in England along a section of the Coast to Coast path from Grasmere in the Lake District for 110+ miles to high atop the Moors. L->R Art deco lamb, Ivelet Bridge, Church of St Agatha 13th century fresco, Faraday Gill footbridge, Trail marker, Motocross troll, Rivulet, 12th century Easby Abbey ruins, and St Patrick Church of Bampton. View the whole show and read the report.
Carson Pass 2016 ~ It was so splendid our first day at Carson Pass that we returned the next to explore again, this time off-trail along a ridge to 9100 ft, a place of wildflower delight. View the whole show. Pics: (1) Juniper Tree, (2) Sardine Creek along east side of Sonora Pass, (3) Woolly Mule Ears, (4) Spreading Phlox, (5) Blazing Star.
Sierra Scenic Byway 2016 ~ It was a fine road trip in mid June of 2016 along California's Sierra Scenic Byway. Our route traversed 100 miles of back roads in the foothills below Yosemite. Along the way we viewed abundant wildflowers, splendid meadows in floral excellence, majestic granite domes, glacial valleys, historic cabins, and Giant Sequoia redwoods at the Nelder Grove, a place where we stretched our legs and craned our necks viewing skyward at ancient 1000+ year old trees. It was a fun few days enjoying Mother Nature's finest. View the whole show.
Photos L->R: (1) Washington Lily, (2) Arch Rock, (3) Old Barn, (4) Leichtlin's Mariposa Lily, (5) Violet Clay Mariposa Lily, (6) White Clay Mariposa Lily.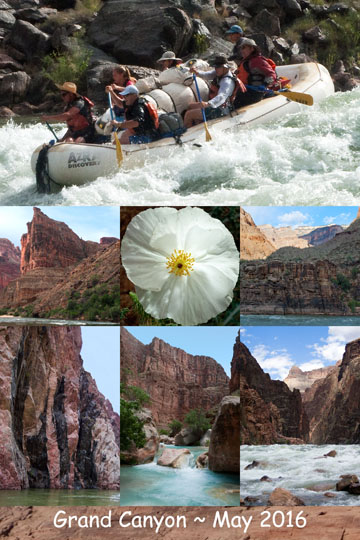 Grand Canyon 2016 ~ My second 14 day raft trip with Arizona Raft Adventures, my previous in 2008, and a thrill it was. View the whole show. Left to Right w/milepost -- MP95: Hermit Rapid, MP52: Barbenceta Butte of Nankoweap Canyon, MP21: Prickly Poppy, MP216: Three Springs Rapid Sunset, MP81: Zoroaster Granite & Vishnu Schist, MP157: Havasu Canyon, and MP89: Horn Creek Rapid.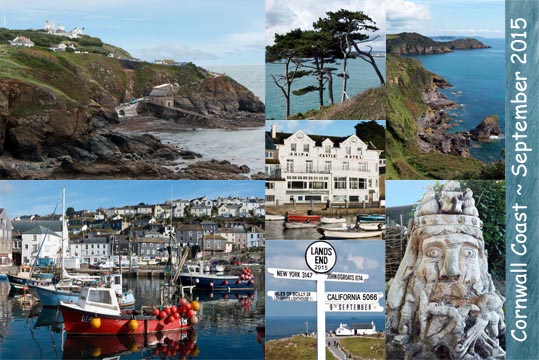 Cornwall 2015 -- A stupendous walk along the Cornwall Coast. I enjoyed a melody of fine weather and lovely landscape with ... let's call it the other: Fits of rain, a burst of Wizard of Oz wind, a high anxiety cliff hanging path. I walked bits and pieces, 80 miles, of the 630 mile path from the most western locale of England at Land's End to Plymouth including the most southern locale at Lizard Point. Along the way were charming port towns, fine B&Bs, scrumptious local sea food, great cask ales, and yummy Cornish ice cream. View the full show, read the report.
Left to Right: (1) Lizard Point, (2) Mevagissy Harbour, (3) St. Anthony's Head, (4) Saint Mawes Harbour, (5) Land's End, (6) Black Head, (7) Neptune Sea God.
Yosemite ~ In August of 2015 I once again walked Yosemite's High Sierra Camp loop. View the full show. Better yet, plan your own trip with my How-to Report.
Photos Left->Right/Top->Down: (1) Liberty Cap & Nevada Falls, (2) Lyell Fork of Tuolumne River, (3) Vogelsang Lake, (4) Cone Flowers at Washburn Lake, (5) Tree Skeleton, (6) 2014 Bunnell Cascade Fire Devastation.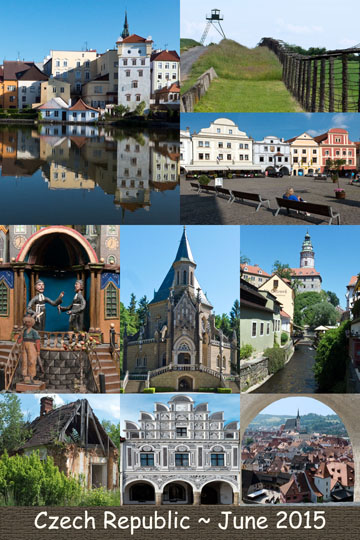 Czech Republic - I joined the Sierra Club in June of 2015 visiting many tiny towns with huge histories. Pics L->R: Vijgar Lake in Trebon, Iron curtain and guard tower, Český Krumlov town square, Krýza 3D nativity scene, Schwarzenberg Tomb, Vltava Waterway, Farm home of Jewish artist Frantisek Nagl (1944 death camp victim), Telč (World Heritage Site), Český Krumlov. View the full show.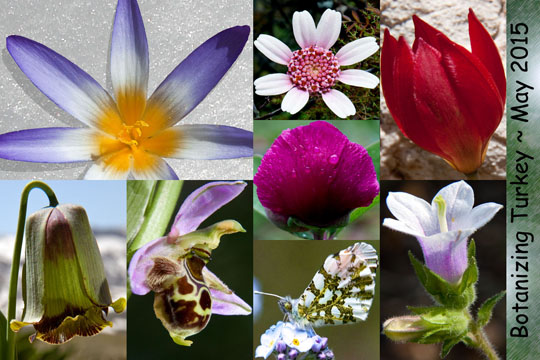 Botanizing Turkey For one glorious week in May of 2015 I explored the mountain hillsides nearby Antalya to view and photograph exotic botany with my fantastic guide Yasemin of Runner Tourism.
From top left column: Crocus (new subspecies yet to be named); Fritillaria acmopetala subsp. wendelboi; Ophrys oestrifera (aka bee orchid); (middle column) Pericallis aurita; Paeonia mascula subsp. mascula (aka Balkan peony); Orange-tip Aurora butterfly; (right column) Tulipa agenenis; Purple gentian. View the full show.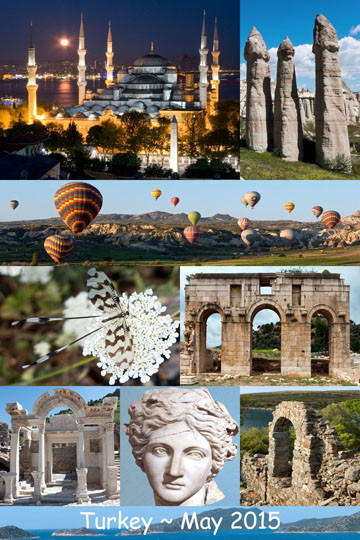 Turkey - In May of 2015 I joined a small group to visit Cappadocia and then to sail and tour sites of the Aegean Sea. Pics L->R: Moon over Saltanamet; Zemi (Love) Valley; Over Cappadocia, Spoonwing; Lycian Arch of Modestus; Hadrian's Temple at Ephesus; 2nd century bust of Apollo; Byzantine ruins on Gemiler Island. View the full show.
Magic Mushrooms ~ After years of hard work, 1973 marked the year I graduated college with a prized engineering degree. I would have been brilliant at my first job had not my graduation party done me in. I invited my college buds to a revelry as we were now all worthy scholars. What I recall, and it's not much, was we whooped it up early, drinking hard and fast, then an hour later I was comatose. I next remember the early AM, resurrected, walking with friends, a pounding head and wrenching guts. My friends all retold the same story that I tried to make time with Hope when she arrived unattended, husband Ernest home studying for one last exam. Normally shy me blurted out "let's f**k," her cool self responded "sure, but you probably can't get it up!" Nothing happened. That night cured me. Now it's one beer, never drugs, and no magic mushrooms.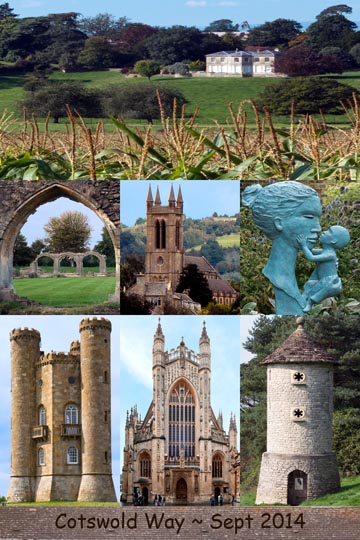 Cotswold Way 2014 L->R (1) Manor House near Stinchcombe, (2) Hailes Abbey, (3) Saint Michael & All Angels Church in Broadway, (4) Sculpture at Hidcote Garden, (5) Broadway Tower, (6) Bath Abbey, (7) Swallows & Owls House - Millennium Folly at Horton Hill. View the full show, read the report of my walk.
Netherlands & More 2014 L->R: (1) Wierd Sisters by Gillray; (2) Crying Boy by Ludwig Lücke; (3) Thwarted Ratcatcher by Seikei; (4) Sketch by Beatrix Potter; (5) Jetta Escher-Umiker by M.C. Escher; (6) Elisabeth Bellinghausen by Barthel Bruyn; (7) Personnage de Nuit by Constant. View the full show.
Crested Butte ~ In July of 2014 I spent a week enjoying the diverse wildflower landscape. The floral bouquet at 11K feet was heavenly, often with entire hillsides carpeted with nature's prolific colors for as far as the eye could see. View the full picture show.
From top left: (1) Floral pallet of Maroon Bells Wilderness at 11K feet elevation, (2) Corydalis, (3) Fireweed, (4) Columbine, (5) Mariposa Gunnisonii Lily, (6) White Geranium, (7) Sneezeweed, (8) Pink-headed Fleabane Daisy.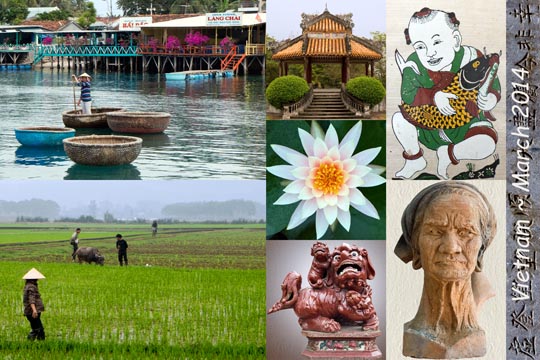 Vietnam 2014 ~ A holiday with the Sierra Club traveling northward from Ho Chi Minh City to Đà Lat to Nha Trang Bay to Đà Nẵng to Hội An to Huế to Hanoi and to Hạ Long Bay. Read and view the full annotated show.
(1) Woven Bamboo Basket Boats, (2) Rice, (3) Pagoda at Hue Royal Palace, (4) Lotus Flower, (5) Ký Lân (Asian Unicorn), (6) Give a man a fish, feed him for a day / Teach a man to fish, feed him for a lifetime, (7) My Mother sculpture.
Madagascar 2013 ~ 88 million years ago a landmass bestowed biodiverse autonomy to an evolving island, now Madagascar. Then prosimians protected by isolation from other primates flourished, and now their lemur ancestors number some 100 species. Madagascar's diversity also extends to birds, frogs, geckos, chameleons, and more. I joined a small group to explore this exotic and often maddening place surviving potholed roads, dust, heat, humidity, and more. View the full show.
Left to right: (1) Rice, (2) Dancing Verreaux's Sifaka, (3) Red-fronted Brown Lemur, (4) Grey Mouse Lemur, (5) Madagascar Kingfisher, (6) Boophis Rappiodes, (7) Panther Chameleon, (8) Tribute to One Wife.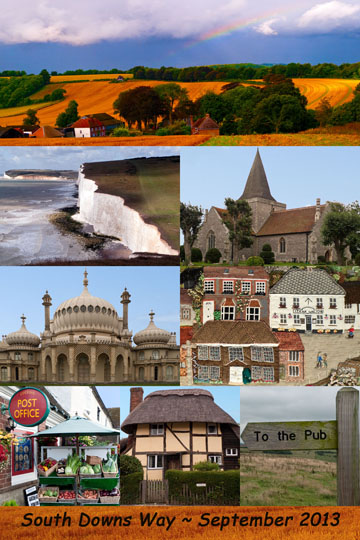 South Downs Way 2013 L->R: (1) Rainbow Over Fruited Plain, (2) Seven Sisters Chalk Cliffs, (3) St Andrew's Church in Alfriston, (4) Brighton Royal Pavilion, (5) Tapestry at Parish Church of All Saints in East Meon, (6) Convenience Store, (7) Thatched Roof Cottage, (8) Thirst Quencher. View the full show, read the report of my walk.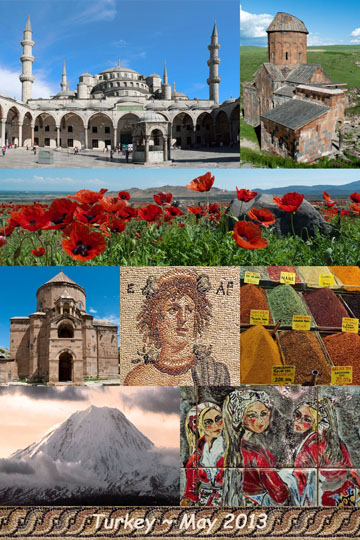 Turkey 2013 ~ L->R: Sultan Ahmet Mosque, Istanbul; 13th Century Church St. Gregory of Tigran Honents, Ani; Poppies; 10th Century Armenian Cathedral of the Holy Cross, Akdamar Island; 3rd-4th Century Mosaic; Egyptian Bazaar, Istanbul; Mt. Ararat; Topkapi Palace Porcelain, Istanbul. View my annotated photo album.
Portugal & Switzerland 2013 ~ In May 2013 I traveled to warm and sunny Portugal (P) before heading to Turkey and then afterwards to Switzerland (S). From L->R: Meadow above Interlaken (S), Monument to the Discoveries (P), Berne (S), Pena National Palace (P), Carnival Mask (S), Sintra Sculpture (P). View the full picture show.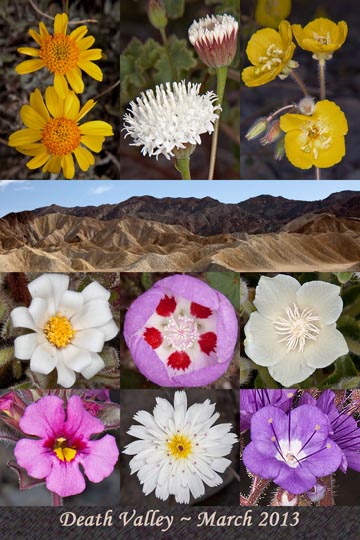 Death Valley 2013 ~ Top-left: Brittlebush, Fremont Pincushion, Golden Evening Primrose, near Zabriskie Point, Mojave Desert Star, Desert Five-Spot, Desert Rock Nettle, Bigelow's Monkeyflower, Desert Chicory, and Notch-Leaf Phacelia. View the full picture show.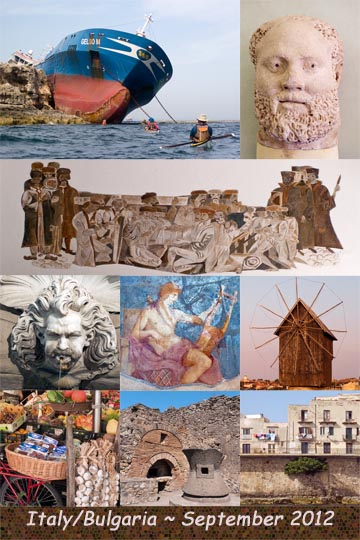 Italy/Bulgaria 2012 ~ Left to right (B=Bulgaria, I=Italy): Shipwreck: Siracusa(I), Head: Pisa(I), Mural: Rila Monastery(B), Fountain: Florence(I), Mural: Rome(I), Windmill: Nessebar(B), Farmer's Market: Rome(I), Bakery: Pompeii(I), Seaside Living: Siracusa(I). View the full picture show.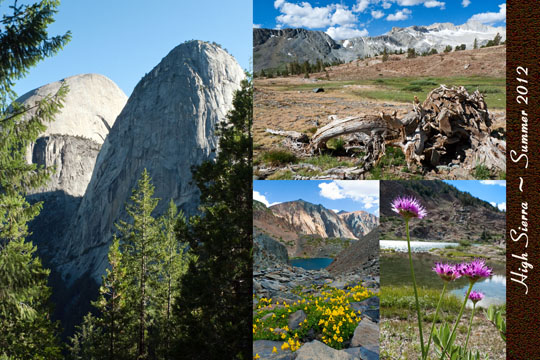 High Sierra 2012 ~ A paradise with so much to enjoy. This visit to the High Sierra was first based in Lee Vining, just on the eastern side of Yosemite. There I walked the wonderful 20 Lakes Basin over a loop trail from Saddlebag Lake, see report to plan your adventure. Afterwards I walked from Glacier Point over the grand Panoramic Trail with intent to spend several days at Yosemite's High Sierra Camps, but trips don't always go as planned and that journey was cut short. Nonetheless, an enjoyable visit. View the full picture show.
Pictures left-to-right, top-down: (1) Yosemite's Liberty Cap, (2) 20 Lakes Basin, (3) Seep-Spring Monkey Flower at Helen Lake, (4) Wild Onion at Hummingbird Lake.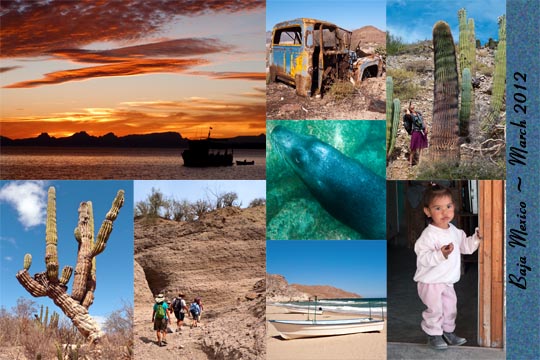 Baja Mexico ~ In March of 2012 I joined a small group and a terrific crew to enjoy the waters of the Sea of Cortez, traveling with our Baja Expeditions support boat from Loreto to La Paz while camping on the beach along the way. Although our primary activity was kayaking, we also hiked and snorkeled. View the full show.
From top-left: (1) Baja Sunset, (2) Cardon Cactus, (3) Walking an Arroyo, (4) Truck from San Jose Island Salt Works, (5) Sea Lion, (6) Fisherman's Panga, (7) Giant Barrel Cactus (~12' tall), (8) The Future at a Remote Village.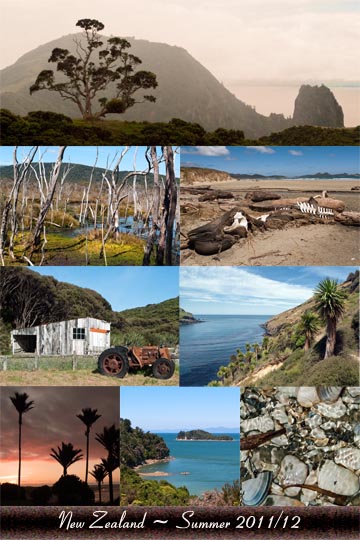 New Zealand 2012 - Left to right: "Sugar Loaf" along Coromandel Coastal Walk, Stewart Island Wetland, Beached Whale on Mason Bay, Historic Wool Shed near Mason Bay, Cabbage Tree on Banks Peninsula, Nikau Palm Sunset, Fisherman's Island in Abel Tasman, Shells. View the pics, read the report of my 6 week holiday.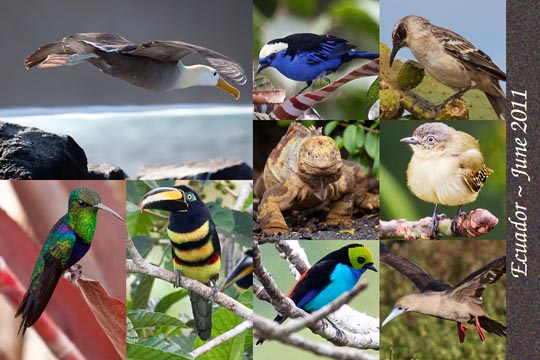 Ecuador ~ June 2011 - I returned to Ecuador to visit the Galapagos Islands a second time and to discover the Amazon Rain Forest. An 11 day Galapagos adventure and a 5 day journey to the Rain Forest. Birds, birds, birds, birds. View the full show or view the show from my 2007 Galapagos Adventure.
Galapagos Islands (gi) and Rain Forest (rf) from top left - (gi) Waved Albatross, (rf) Forked-tailed Woodnymph, (rf) Many-banded Aracari, (rf) Opal-crowned Tanager, (gi) Land Iguana, (rf) Paradise Tanager, (gi) Galapagos Mockingbird, (rf) Slender-footed Tyrannulet, and (gi) Red-footed Booby.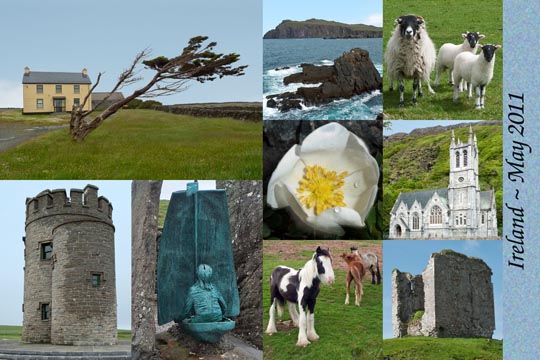 An Irish Holiday 2011 - I was repeatedly informed that the month of April had sunny skies, but during my May holiday they were stubbornly tumultuous. Nonetheless, my walking holiday saw wonderful sites. I walked the Wicklow Way south of Dublin, I walked the beautiful Dingle Peninsula along the Dingle Way, I toured south of Galway to Doolin for Irish music, by ferry I walked Inis Mór to view fantastic antiquities, and I toured west of Galway to Clifden for the Connemara landscape. View the pics of my holiday. If you are planning your own Irish walk, prepare yourself with GPS routes for the Dingle Way or the Wicklow Way or the Aran Island of Inis Mór.
Left top-down to right: (1) Windswept on Inis Mór, (2) O'Brian's Tower, (3) Monument to Saint Brendan, (4) Irish Sea off Dingle Peninsula, (5) Burnet Rose in Burren, (6) Neigh, (7) Baaah, (8) Kylemore Abbey Church, (9) Minard Castle.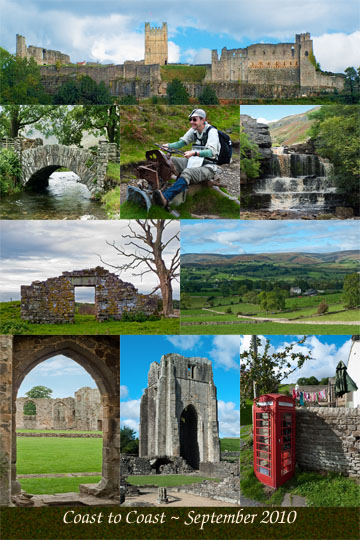 Coast to Coast Path - A walk of 190 miles across England from St Bees on the Irish Sea to Ronin Hood's Bay on the North Sea. Left to right: Richmond Castle, Lovely Bridge, Manical, Swinner Gill Waterfall, Homestead, Countryside, Easby Abbey, Shap Abbey, Telephone. View the pics, read the report, get GPS waypoints for the walk.
Grand Canyon 2010 - A 6 day adventure in May 2010 to the Grand Canyon. Left to right: Plateau Point, Ribbon Falls, Fleabane Daisy, Hmmmm, Engelmann Prickly-Pear Cactus, 750 Mile Arizona Trail Bike Race, Sunflower. Read the photo story.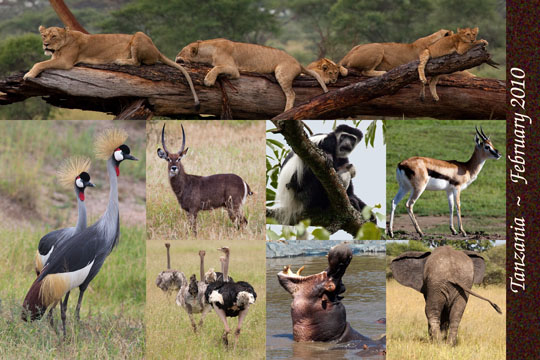 Tanzania 2010 - A smidge south of the equator on Africa's east coast, Tanzania is remarkable and vibrand with wildlife. In February 2010 I was on safari. I watched the great migration of wildebeest, oberved the birth of wildebeest and zebra, viewed big cats including lions, cheetahs, and leopards, saw elephants, giraffes, rhinoceros, gazelles, monkeys, numberous birds, and much more. View the full show.
From left to right: (1) The Pride of Lions, (2) Grey-Crowned Crane, (3) Waterbuck, (4) Ostrich, (5) Black & White Colobus Monkey (mama & baby), (Hippopotamus, (7) Thompson's Gazelle, (8) Elephant.
Yosemite's High Sierra - A 6 day outing in July of 2009 in the Yosemite staying at the High Sierra Camps. I walked and enjoy Mother Nature's best carrying a light pack, the Camps catered with tent cabins and great food. 2 nights at Sunrise Camp, 2 at Merced, and 1 at Vogelsang. Along the way I met other eclectic enthusiasts. I had plenty of time to enjoy the wonderful landscape. View the full show, read the report.
From top left: Sunset at Sunrise Camp, Western Azalea, Cathedral Peak, Sierra Tiger Lily, Merced River Waterfall, Vogelsang Camp, Elegant Brodiaea, Mule's Ears, Leichtlin's Mariposa Lily, Western Columbine.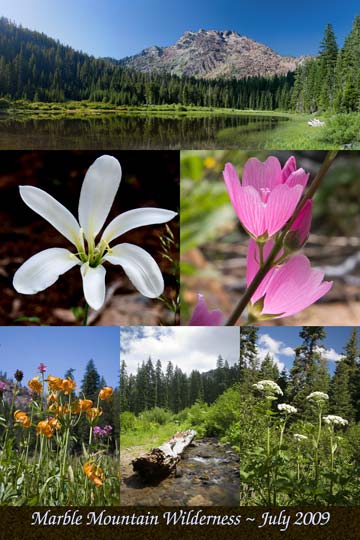 Marble Mountain Wilderness - A 3 day journey in July 2009 to Little Elk Lake with a side trip to Deep Lake. Left to right: Little Elk Lake, Washington Lily, Wild Hollyhock, Tiger Lilies, Little Elk Creek, Cow Parsnip. View the full show, read the report.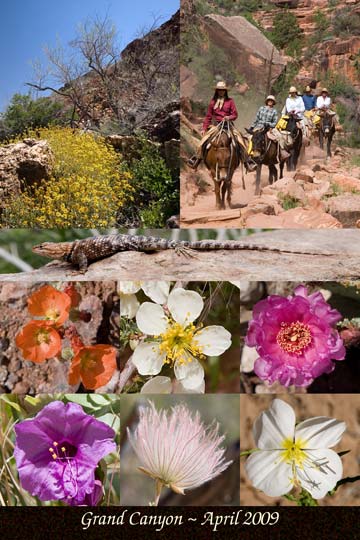 Grand Canyon Tramp - 4 days tramping in the Grand Canyon at the end of April 2009 enjoying the Spring bloom. Left to right: Brittlebush, Alternate Transportation, Desert Spiny Lizard, Gooseberry-Leaf Globemallow, Cliffrose, Beavertail Cactus, Desert Four-O'clock, Fruit of Apache Plume, Evening Primrose. View the full show.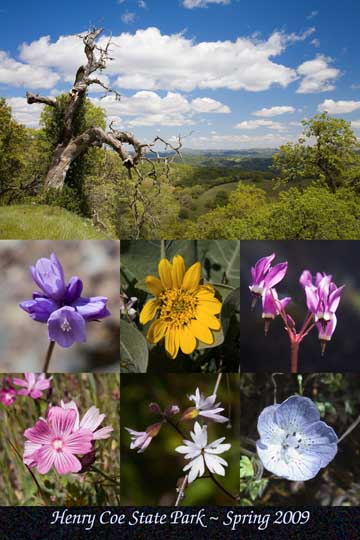 Henry Coe Spring 2009 - A four day outing of diverse and colorful floral Springtime delight while toting my home on my back and a camera for fun. Left to right: View on ridge from Wagon Road, Blue Dicks, Mule Ears, Shooting Star, Checkerbloom, Woodland Star, and Baby Blue-Eyes. View and read the full show.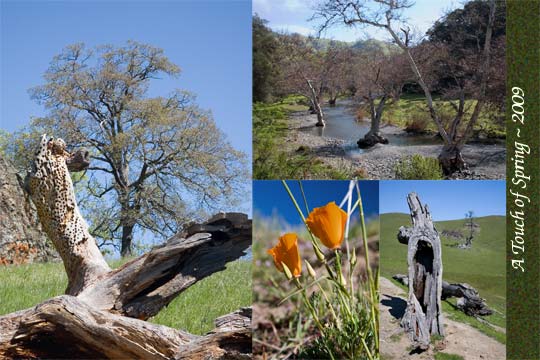 A Touch of Spring ~ 2009 - At equinox plus 2 days Rose Peak in the San Francisco East Bay Ohlone Wilderness was peppered white with snow. 3 days later I sauntered, no I grunted, to the 3817' peak for a 3 day outing. No snow, yet not Spring either, the sleepiness of Winter hanging on lengthening days. Although creeks flourished everywhere, at higher elevations wildflowers were mostly in contemplation and oaks dormant. Lower were aspiring wildflowers with verdant grasslands and budding oaks. The periodicity of life beginning once again.
Left to right: Cycle of Oaks - Acorn stronghold & Spring buds, Sycamores along Alameda Creek, California Poppy, and Ghost Tree.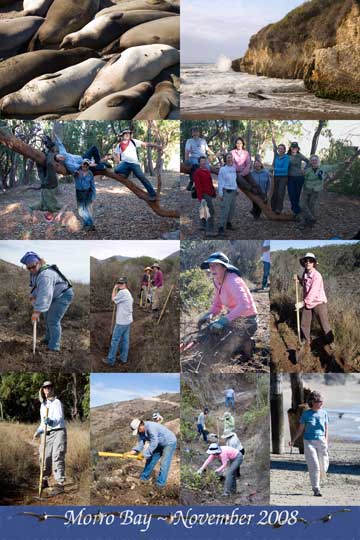 Morro Bay Service Trip - A week of work & fun to help the park service maintain trails. From top left: Elephant Seals; nearby surf; Guys: Jim, Herb, Dave, John; & Dolls: Marty, Diane, Barri, Sue, Kate, Deb, Autumn, Laurel (cook); Kate, Autumn, Deb, Stephanie; Diane; Sue; Barri; Dave (leader); Diane, Kate, Laurel, Dave; and Marty.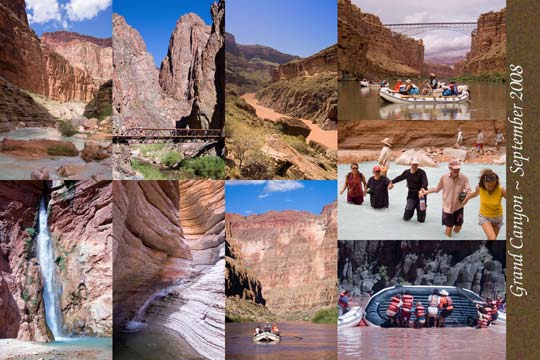 Grand Canyon - In September of 2008 I spent two weeks in the Grand Canyon on a wet and wild AzRA raft adventure. Lots of sun, fine food, great people, diverse wildlife, sans night-life, and the Groover. 225 miles on the water, somewhat less exploring side canyons. Share my adventure, view the photos.
Left top-down to right-bottom - (1) Milepost MP156: Havasu Creek, (2) MP136: Deer Creek Falls, (3) MP88: Bright Angel Canyon near Phantom Ranch, (4) MP148: Matkatamiba Canyon, (5) MP114: Muddy Colorado River, (6) MP170: Perfect Day, (7) MP4: Navajo Bridge, (8) MP156: Team effort crossing Havasu Creek, and (9) MP131: Recovery of flipped raft after Dubendorff Rapid.
Iceland 2008 - In July 2008 I spent 3 weeks in Iceland, half that time with a group from REI Adventures hiking and touring the south coast and the other half solo touring the Westfjords on an adventure called Birds of Land and Sea organized by West Tours.
A wonderful experience. Share my adventure and view the full show. In addition to photos, it highlights my trip with links to the places and restaurants I considered special.
The photo collage left to right: (1) View from Kristínartindar in Skaftafell NP of Vatnajökull Glacier and Mt. Hvannadalshnjúkur, (2) Landmannalaugar, (3) Puffin,(4) Vigur Island, (5) Svartifoss, (6) Redshank, (7) Bárður Snæfellsás, (8) Mother & child, (9) Arctic Tern.
A New Zealand Adventure - An 11 week holiday during southland summer 2007/8. Top left: Fiordland Crested Penguin, Lake Manapouri Sunset, Takahe, Milford Track, Akarora Harbor, Routeburn Track, Waipapa Point Lighthouse, Mountain Daisy, Gannet, Maori symbol of new life. View the full show, read the report.
Mesa Verde Service Trip - A week of volunteer work at Mesa Verde NP located in the Four Corners region. Top then left to right: Balcony House, Christina & Anita, Oak Tree House, Joanne & Laura, Carla & Paul & Linda, Mug House, Cliff Palace, Petroglyphs, Paul (leader), Kodak House, Cat (co-leader) & Herb, Knife Edge at sunset.
September Road Trip - With a goal to lend a hand at Mesa Verde, I also toured New Mexico and the Eastern Sierra. Top left: Mesa Verde Square Tree House, Afternoon Clouds, Narrow Gauge Train, American Avocet, Mesa Verde Petroglyphs, Bodie Ghost Town, Bodie Steam Engine, Mono Lake Tufa, Mesa Verde Cliff Palace. View the full show.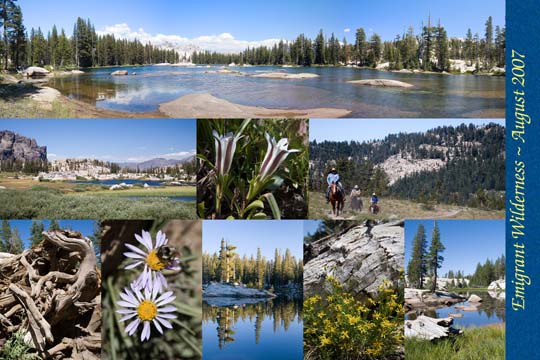 Emigrant Wilderness ~ August 2007 - On the northern boundary of Yosemite, the Emigrant Wilderness is some of the Sierra's best. On this five day visit, I reached out-of-the-way Karls Lake, definitely a worthwhile side trip.
Top, then left to right: Karls Lake, High Relief Valley, Alpine Gentian, Alternate locomotion, Downed tree root, Alpine Daisy and Bee, Wood Lake morning reflection, Bouquet of DYCs, and just another nice mud hole. View the full show or read the report.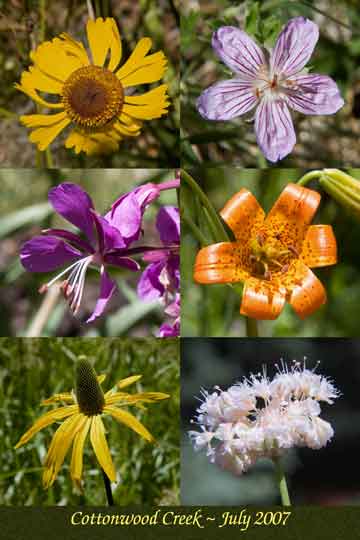 Cottonwood Creek ~ July 2007 - Near Hetch Hetchy in Yosemite, I spent a couple days enjoying the summer wildflowers. Top left: Bigelow's Sneezeweed, California Cranesbill, Fireweed, Tiger Lily, Cone Flower, and Foothill Gilia. View the full show.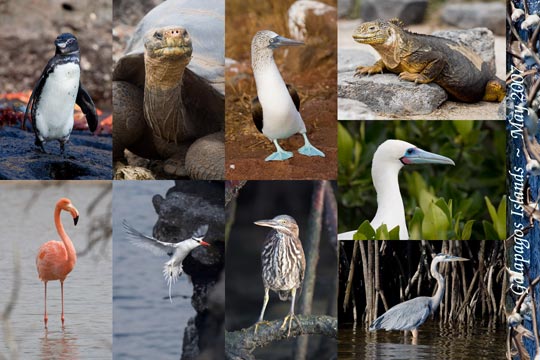 Galapagos Islands ~ May 2007 - After many years of wanting, I finally took a wonderful trip to view (often up close and personal) the wildlife of the Galapagos Islands, spending 15 days island hopping with 14 others and a Naturalist guide. Armed with my new Canon 5D SLR & 100/400 lens, I was able to capture some amazing moments.
From top left: Galapagos Penguin, Greater Flamingo, Galapagos Giant Tortoise, Red-billed Tropicbird, Blue-footed Booby, Striated Heron, Land Iguana, Red-footed Booby, Great Blue Heron, and (title bar) Feeding Frenzy of Blue-footed Boobies. View the full show or view my 2011 return visit to Ecuador for both the islands and the Rain Forest.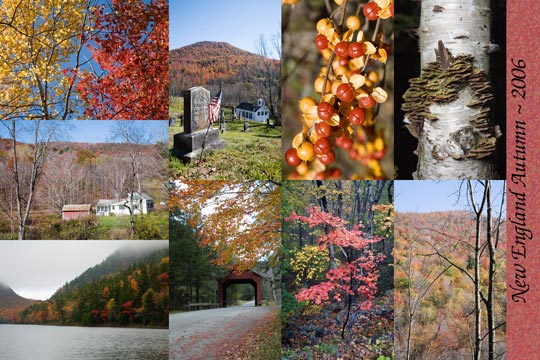 New England Autumn ~ 2006 - It was Autumn 2006, it was time for a trip to view New England and its Fall foliage. First stop was Arcadia NP staying in Bar Harbor, Maine, then west along scenic Hwy 2 to Vermont, then south on scenic Hwy 100, and finally east from Bennington, Vermont along Hwy 9. Lots of foliage, many historic cemeteries, and in Vermont numerous covered bridges. A trip of scattered sunshine, often clouds, and some foul weather (ugh!).
From top left: Striped & Red Maple, Vermont Farm, Fog over Jordan Pond, Arcadia NP, Henry Schrader 1820~1892, Bittersweet, Birch & Fungi, Stony Brook Road Bridge (Vermont), Red Maple, near Sandgate (Vermont).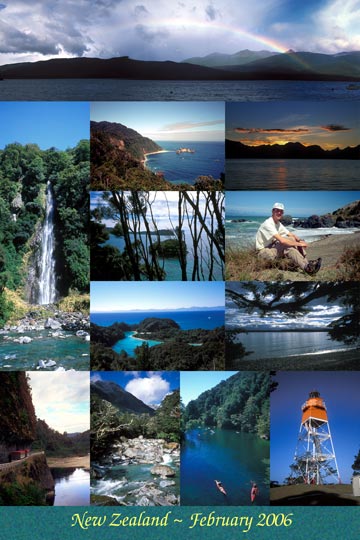 New Zealand ~ February 2006 - From top left: Lake Te Anau, Thunder Creek Falls, Kings Point on Tasman Sea, Lake Manapouri, Steward Island, Riverton Beach, Frenchman's Bay, Lake Te Anau, Hawks Crag, Routeburn Track, Abel Tasman NP, Farewell Spit Lighthouse. View the full show or read the report.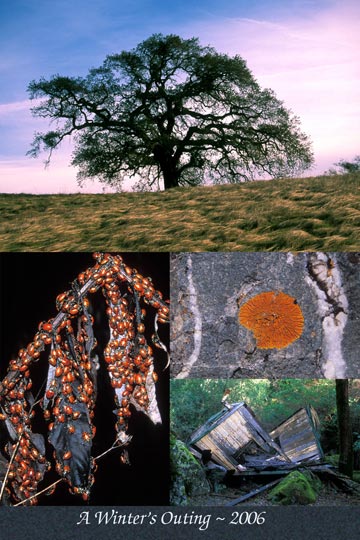 A Winter's Outing ~ 2006 - On an early morning California winter day, I rambled through Henry Coe SP. No snow here, but the outing was between winter storms thus making for splendid creek flow. From top left: Morning light on majestic oak, Lady bugs around Madrone Springs, Lichen on granite near China Hole, California fixer-upper (old Madrone Springs rustic cabin).
Point Reyes National Seashore Service Trip ~ September 2005 - A week of fun volunteer work with a dozen other like minded Sierra Clubers.
From top left: Lighthouse; Sculptured Beach ~ Debbie, Herb, Norma, Mimi, Gary; Lunch near Abbot's Lagoon ~ Jim (zzz), Dave, Gary, Harriet, Kim (Plover Lover), Norma; Lighthouse Fresnel lens; Removing invasive European Beach Grass and evasive root system ~ Becky, Debbie, Joe, Mimi, Norma; Foggggged at Mount Wittenberg ~ Norma, Gary, Mimi, Herb, Debbie; Seep Monkeyflower; Debbie; Dave; Harriet; Last!!! of 300 steps from lighthouse ~ Becky, Jim; Joe; Mimi removing invasive Cape Ivy; Ted.
Emigrant Widerness ~ August 2005 - Still energized by all those colorful sprouts from plentiful winter rain, I sauntered around the Emigrant Wilderness (just north of Yosemite) for five days with my home on my back and my camera to my eye. No doubt it's beautiful in the high country, 8500'.
From top left: Creek from Long Lake, Meadow trail between Long and Deer Lakes, Meadow trail with Lupine and DYCs, Lemmon's Paintbrush, Tiger Lily, Elephant Head, Western Bistort, Wandering Daisy, Lewis Monkeyflower. View the full show or read the report.
Yosemite Meadows ~ Summer 2005 - After a 4 day backpack trip to Cottonwood Creek (Yosemite) with camera but alas no film, I returned the following week to capture the peak color. From top left: Cone Flower, Harvest Brodiaea (lily), Bigelow's Sneezeweed, Pink Geranium, Checkermallow, Crimson Columbine.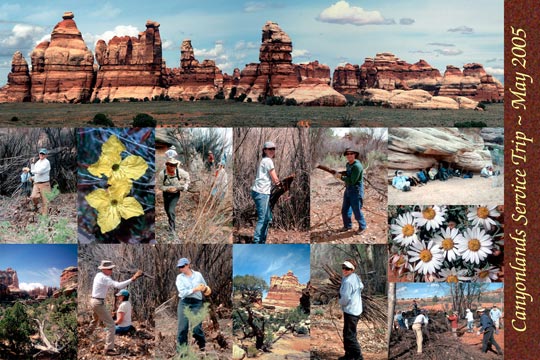 Canyonlands National Park Service Trip ~ May 2005 - One of the most beautiful places, especially in early Spring when the desert wildflowers are at their peak. A dozen Sierra Clubers volunteered for a week to help the park service clean out invasive plants and to do other chores.
Arches National Park Service Trip ~ April 2005 - Most amazing geology, and in early Spring the desert wildflowers add to to the experience. Almost 2 dozen Sierra Clubers joined in to help the park service maintain trails. This luxury trip had a catered "cowboy" cook - yummy, yummy.
Desert Wildflowers ~ Spring 2005 - To flight by foot and car for springtime pleasure. Backpacking in Henry Coe State Park (CA), touristing in Joshua Tree National Park (CA), service work in Arches National Park (UT) and Canyonlands National Park (UT), and touristing a second time this year in Death Valley National Park (CA). This collage highlights Nature's diverse and abundant wildflower splendor.
From top left: Whipple's Fishhook Cactus (Arches); Goldfields, Owls Clover, & Gawker (Henry Coe); Lavender Evening Primrose (Canyonlands); Sago Lily (Arches); Jimson Weed (Joshua Tree); Mulesears (Arches); Prickly Poppy (Death Valley); Ocotillo (Joshua Tree); Mohave-Aster (Death Valley).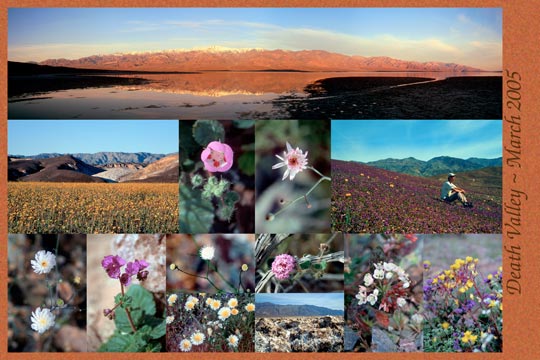 Death Valley ~ March 2005 - Six inches of winter rain spawned Death Valley's 2005 wildflower art gallery. With this rare 50 year occurrence, I took flight to devour and chronicle the copious splendor. It turns out that this was my first postcard collage, and it was a grand idea for sharing. No doubt there are too many small pictures here, but not a bad start.
Top row: Badwater Basin & Telescope Peak at sunrise. Middle row: Desert Gold & badlands at sunset, Desert Five Spot, Tobacco Weed, Field of Broad-Flowered Gilia. Bottom row: Gravel Ghost, Caltha-Leaf Phacelia, (up) Pebble Pincushion, (down) Desert Dandelion, (up) Desert Sand Verbena, (down) Devils Golf Course ~ aka salt crystals, Shredding Evening-Primrose, Golden Evening-Primrose.
The Gates ~ February 2005 - One of my favorite places to visit is New York City for its theater and visits with family. On this winter visit, Central Park morphed into an art exhibition with The Gates by Christo and Jeanne-Claude.
Capital Reef Service Trip ~ May 2004 - Who would think of it - spend a week of vacation doing volunteer work, sleep in tents, and help doing the dishes. But the making of new friends from across the country, the stimulating conversation, and the ability to explore a National Park for a week makes the work enjoyable. This Sierra Club organized service trip in central Utah is one of many I have taken.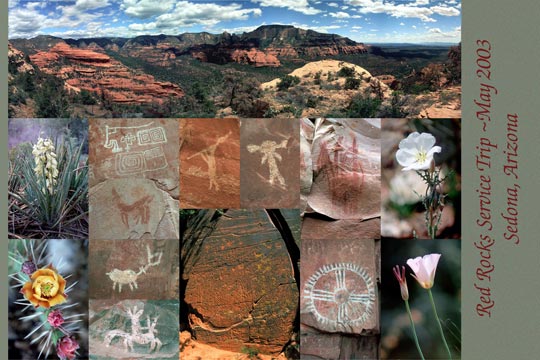 Red Rocks Service Trip ~ May 2003 - Located near Sodona, Arizona, this Sierra Club service trip was geared towards archaeology. Our group of about 20 helped the park service document this culturally-rich area nestled in the Coconino National Forest's Red Rock canyons. The inhabitants that lived here left behind a plethora of petroglyphs (incised figures) and pictographs (pigmented figures) dating back 8,000 to 10,000 years.