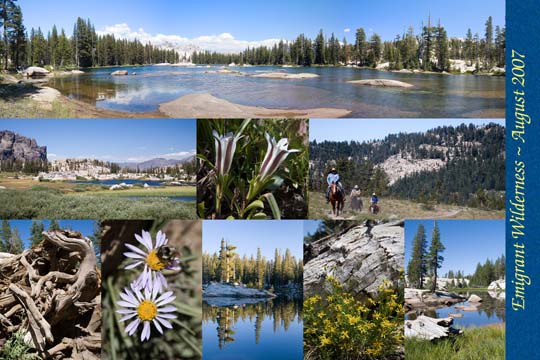 Emigrant Wilderness ~ August 2007 - My third (and counting) visit to this wonderful place, this time for 5 days. I made home at Powell Lake, Wire Lake (2 nights), and High Relief Valley. On my layover day I tramped to the confusing-to-find Karls Lake and was very happy to have experienced it.
Read about my adventure, the report describes the places I visited, some interesting people I met, directions w/GPS of key locales, review of some new equipment, and some good eats before and after.
Top, then left to right: Karls Lake, High Relief Valley, Alpine Gentian, Alternate locomotion, Downed tree root, Alpine Daisy and Bee, Wood Lake morning reflection, Bouquet of DYCs, and just another nice mud hole.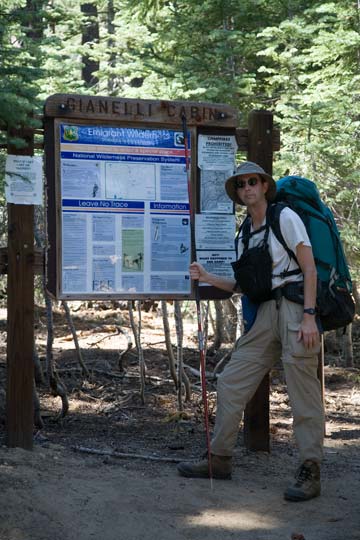 At the Trailhead still clean toting my pack, my big camera, and 7 foot long staff - yes, the staff fends off those incesant mosquitoes.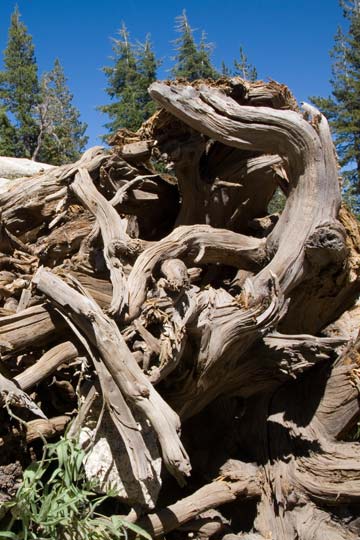 Downed Tree Root
Powell Lake Camp - A favorite spot to camp, it is located near the southeast corner of the lake (for afternoon sun) and has lake access with granite terraces to view, to contemplate, and to cook and eat meals. Best of all, it's a short 2 miles from the trailhead to make the first day's journey easy. Read the report to find this hidden treasure.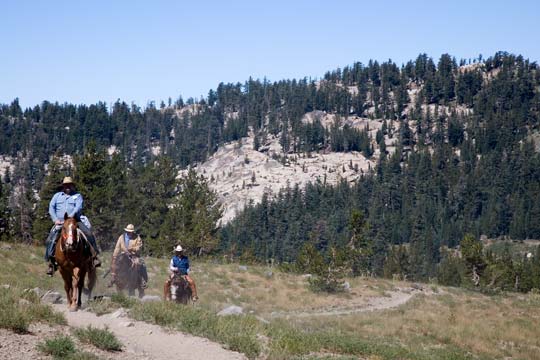 On Horseback is a popular way to enjoy Emigrant Wilderness. This group was heading to Y Meadow. On my journey, I met others who used packers to haul in their gear. Any which way that works!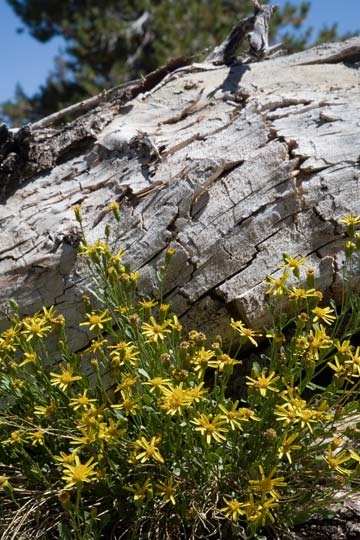 Bouquet of DYCs - When all else has gone to seed, you can always depend upon DYCs (damned-yellow-composites) for a spot of color. Given the poor rainfall the past winter, I was happy for them.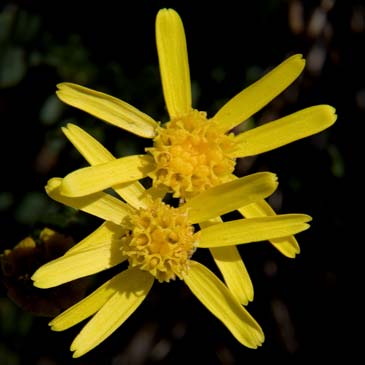 Threadleaf Groundsel - It took me until November 2008 before I discovered the name of the charming little flower, beforehand it was just another DYC.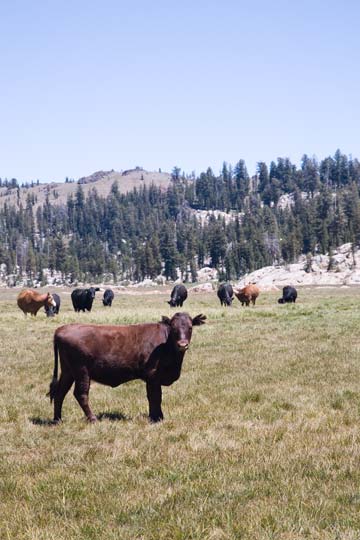 Wild Sierra Cows! - Need I say more.
Wire Lake Camp - With immediate access to the lake, a sandy beach, some granite rocks to play lounge-lizzard on, and of course afternoon sun, it is a 10 on the campsite scale.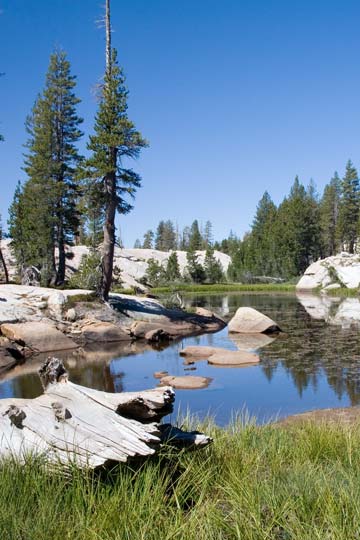 No Name Mud Hole - Emigrant high country is pot marked with many small ponds. It's what makes the area so nice to tramp through. This one is on the trail between Deer Lake and Wood Lake.

Karls Lake - An out-of-the-way lake, Karls Lake is also a place worth visiting. To get there review the directions in my report. The photo is a panoramic encompasing an arc of about 120 degrees taken at a finger of the lake I had lunch at.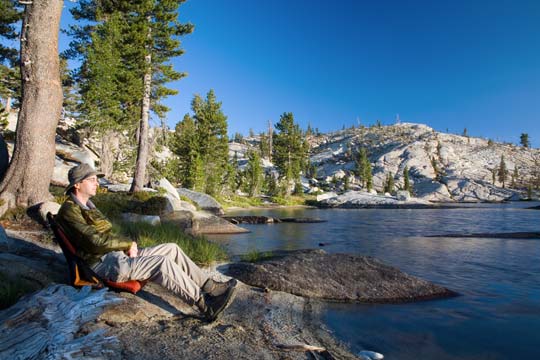 Wire Lake Beach - It can't get better than this. Here I had all my meals and lots of meditative time. At this moment, I was enjoying sunset. Between sunset and dark, abundant small birds twittered along the shoreline searching for an evening meal.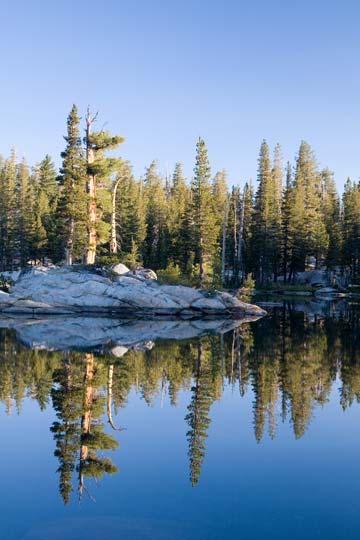 Wire Lake Morning Reflection - At sunrise, when the winds were still, the lake was mirror flat.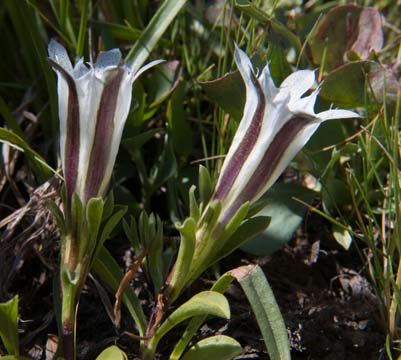 Alpine Gentian - While most wildflowers had already gone to seed, Alpine Gentian was in full glory. These flowers must be shy because they tend to hide their small size in the nearby ground cover.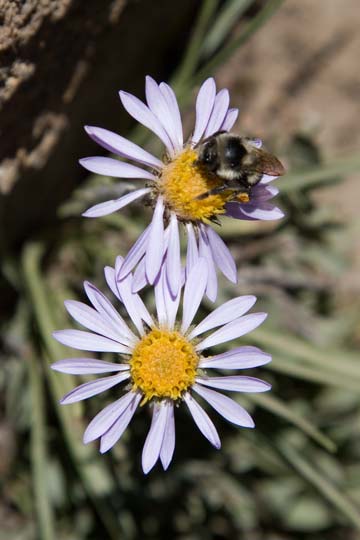 Alpine Daisy and Bee - Very reliable, always prolific is the Alpine Daisy. Pollinators love them as this bee attests: "Bzzzzz, bzzzzz, I like it, I like it, bzzzzz, bzzzzz."
Evangelical Marmot Scat - It was in the most inaccessable places, it was on the tops of granite boulders, it was abundant marmot scat. Here I found the place of evangelical marmots. I looked for an image of the Virgin Mary, but alas when I found it at the apex of a dangerous granite peak I didn't have my camera!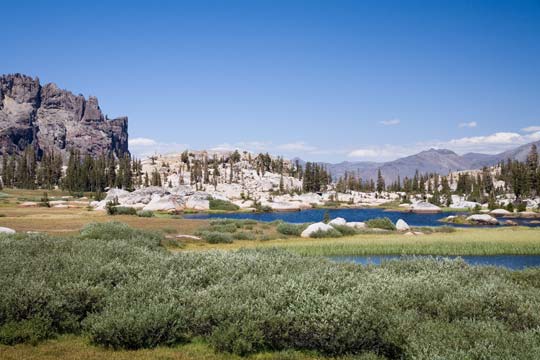 High Relief Valley - A nice place for a day trip, but I don't recommend it as a destination. Read the report for more info.