September Road Trip - A week of volunteerism at Mesa Verde NP (MV) with trips before on the C&T narrow gauge train and after to Mono Lake (ML) and Bodie ghost town (BD). Top left: (1) Square Tree House (MV), (2) Along the C&T, (3) Smoken on C&T, (4) American Avocet (ML), (5) Petroglyphs (MV), (6) Bar & Barber Shop (BD), (7) Steam Engine (BD), (8) Tufa (ML), (9) Cliff Palace (MV).
Cumbres & Toltec Narrow Gauge Train - In the Four Corners area there are two narrow gauge railroads which offer scenic tours: Durango/Silverton and Cumbres & Toltec. Although more well known, the Durango/Silverton in my opinion is best enjoyed during July when Colorado wildflowers are at their best. Rather, the Cumbres & Toltec train travels through a variety of terrain suitable for other times of the year. In the photo you can see the steam whistle, can you hear its shrill? All aboard yells the conductor.
Our trip was a one-way, 64 mile, train ride with a bus shuttle to complete the loop. We began the day at the Chama (NM) station with a morning bus ride to Antonio (CO). Along the way one of the tourists burst out "Look, a family of black bear in the valley below" - however our docent observed these were in fact just grazing cows!
Smoken! - "Stoke the fire" cries the engineer "there's upgrade ahead." So the fire tender shovels more coal into the steam engine. With that the engine generates the power needed and lots of sooty smoke. No doubt I'm glad technology has surpassed these romantic relics.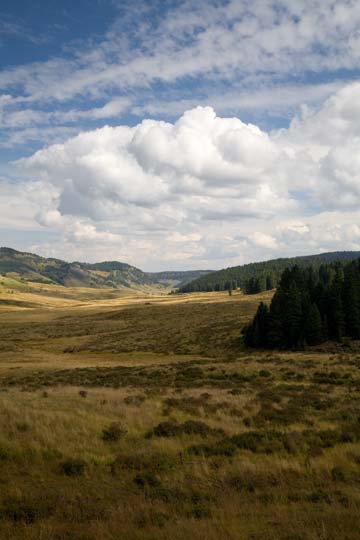 Afternoon Clouds - Scenic valleys highlighted by fluffy clouds. The C&T railroad winds and winds and winds through diverse mountain countryside passing at its peak over the 10,015 foot Cumbres Pass.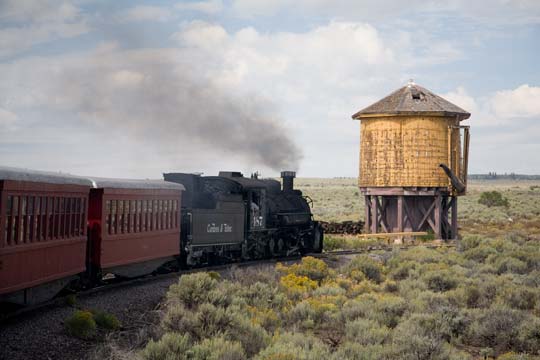 Lava Tank - Along the way the C&T train stops a few times to replenish its thirst for water. In the past, when locomotives were smaller, water tanks were spaced every 7-10 miles, now the train makes two water stops along its 64 mile path.
Oak Tree House - Mesa Verde National Park, located in Colorado near the Four Corners, is an archeological paradise composed of about 600 cliff dwellings and about 4000 other important sites. Only a few sites are open to the public with the others protected for research, but these few offer a telling history into the world of Ancestral Puebloans. The dwellings of Mesa Verde date back 1400 years, and for 700 years these communities flourished. It is not fully understood why they were abandoned.
Oak Tree House, viewed here, can be seen from the Mesa Top Loop Drive along with several other cliff dwellings. The Park Service offers tours into a few of these.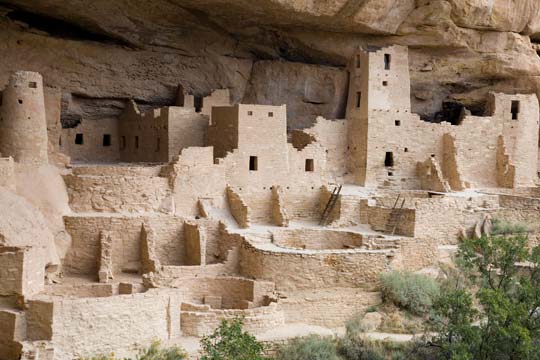 Cliff Palace - On a Park Service guided tour, our group of 15 volunteers viewed Cliff Palace first hand. Unlike most cliff dwellings which average less than 10 rooms, Cliff Palace has 150. The design of these dwellings are built to fit the available space. One key feature which makes these dwellings functional is the presence of natural water seeps, and it is these water seeps which over the millennium helped create the cliff caves through erosion.
Square Tower House - A few footsteps down a trail from the Mesa Top Loop Drive is a view of the Square Tower House. Like all the cliff dwellings, its architecture fits its natural topography.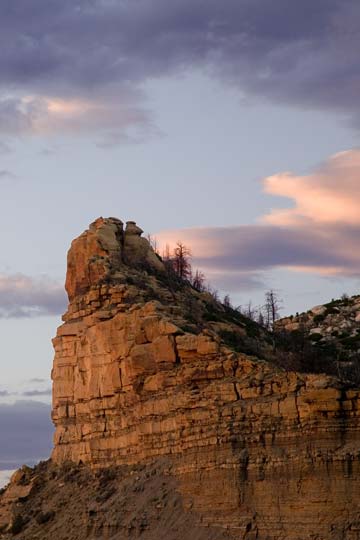 Knife Edge at Sunset - At milepost 6 in Mesa Verde is an overlook with a grand view at sunset complete with historic significance. It was in the early years of Mesa Verde that a precarious and very narrow and often unstable road was perched below this Knife Edge feature. Now a tunnel thankfully replaces the old road.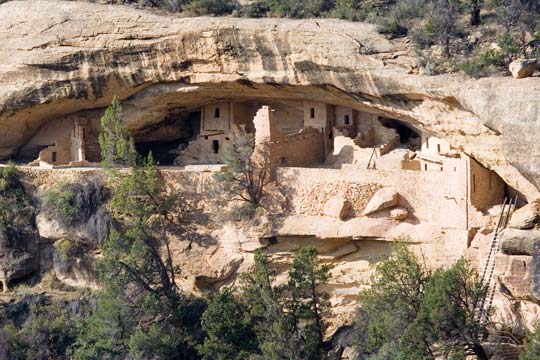 Balcony House - Feel adventurous. Take part in a ranger guided tour of Balcony House. You will climb a 32 ft. ladder, crawl through a 12 ft. long tunnel, climb another ladder of 60 ft (view right side of photo), and climb two more ladders of 10 ft. to exit the site. If this isn't your cup of tea, then you can view this cliff dwelling via a short walk along the Cliff Palace Loop as I did.
Note the growth of pinion pine and juniper in the foreground. When the cliff dwellings were occupied, most of these trees would have been cut down for use as fire wood or as timber to build structures.
Mesa Top Petroglyphs - From the Chapin Mesa Museum is the 2.4 mile Petroglyph Point Loop Trail. Although the highlight is the petroglyphs, the trail offers a modern day experience of ancestral trails. Today's trail follows the cliff edges with a multitude of ups and downs via stone cut steps - try doing this as the Ancestral Puebloans did without the steps!
Sunset Tufa - On the east side of Yosemite at the crossroads of highways 120 and 395 is the tiny town of Lee Vining and the wonderful Mono Basin. The centerpiece of this area is Mono Lake, a vast inland sea of contrasts nestled at the feet of 13K foot peaks of the Sierra Nevada. Although the lake is too alkaline for fish, it is nonetheless a major flyway stopover for migratory birds who consume the lakes abundant brine shrimp and alkaline flies.
Mono Lake is also the home of unusual limestone structures called tufa. They are created when fresh water springs containing calcium bubble up through the carbonate-rich lake to create structures of calcium carbonate, a whitish limestone.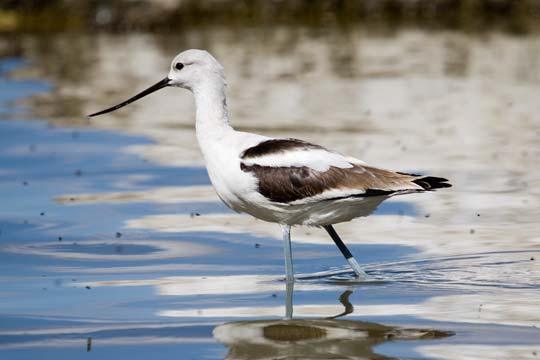 American Avocet - Legs like stilts and a long needle beak, the American Avocet feeds in the shallow waters around Mono Lake. This guy decided to take its head out of the water long enough to have its picture taken.
Sunrise Tufa - Only a photographer will get up at before 5 AM to catch sunrise at 6:30 AM in 40° weather for a hopeful picture of mirrored waters, interesting shapes, and morning colors. My result was not quite mirrored, but was interesting nonetheless.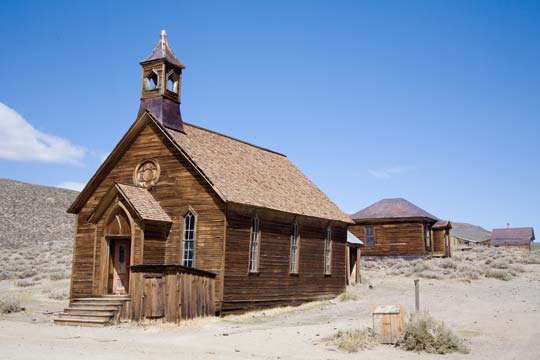 Methodist Church - 20 years earlier I had my first visit to Bodie Historic State Park, a ghost town located near Mono Lake. Then as now there were two roads into the park. But then neither road was paved. Driving a low profile Datsun Z, I braved the 15 miles of terrible washboard dirt road only to brave the other road out for 11 miles which my friend had to often clear of rocks and boulders.
Bodie began its fame when in 1859 gold was discovered. By 1879 Bodie boasted a population of about 10,000 and was second to none for wickedness, badmen, and "the worst climate out of doors." One little girl, whose family was taking her to the infamous town, wrote in her diary: "Goodbye God, I'm going to Bodie." Certainly sermons at this Methodist Church would have been interesting!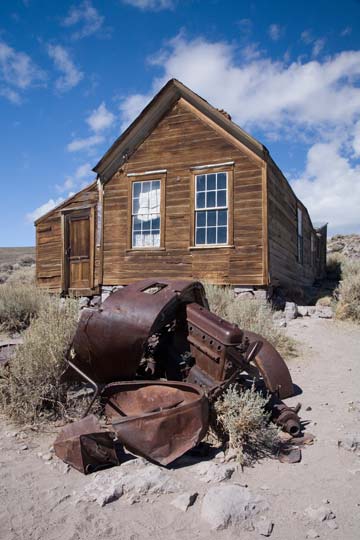 Metzger House & Old Truck - Nearly everything in Bodie is as it was including rusted tin cans, broken bottles, and dilapidated equipment. Here in front of the Metzger House appears to be the relic of an old truck - maybe you have a better idea of what it was. Metzger came to Bodie in 1878, two of his seven children were born here.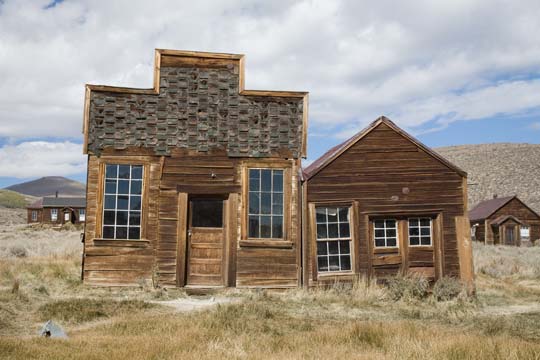 Sam Leon Bar & Barber Shop - Conservation in Bodie was called resourcefulness. The roof tiles on Sam Leon Bar are recycled tin cans.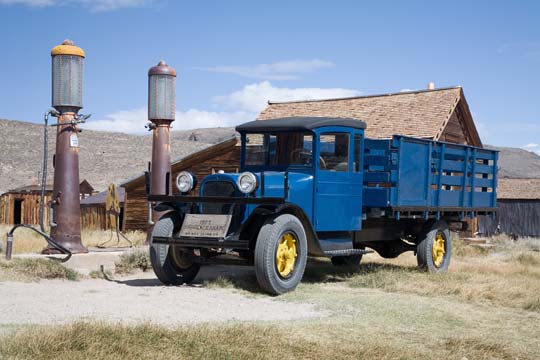 1927 Dodge Graham Truck - Unlike everything else in Bodie, this truck has been fully restored. Catch that blue body paint and the bright yellow wheel rims. Restoration of structures in Bodie is to maintain their historic appearance and to keep them structurally sound. A few lucky park rangers live in the town year round, in restored homes that maintain their old appearance from the outside. Sounds like a lot of work - what fun!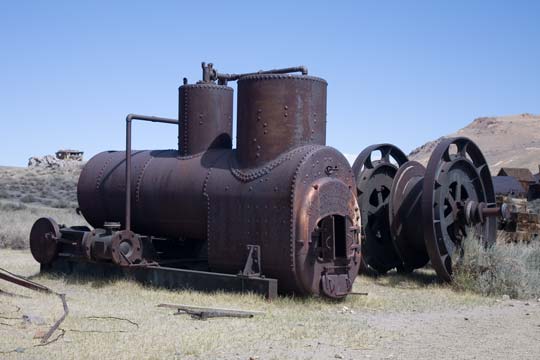 Steam Engine - Probably used in the mill, this steam engine would have provided mechanical energy to process the gold ore and in latter years to generate electricity. The engine was manufactured in San Francisco.
Natives of Denmark & Ireland - In 1889 there must have been a stone cutter who created this style grave marker. These two tombstones mark graves of immigrants from Denmark and Ireland.