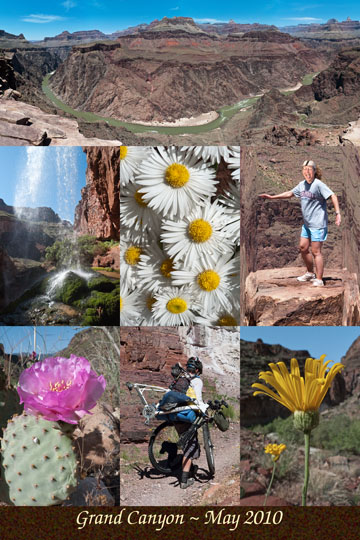 Grand Canyon Backpack ~ Six days in the Grand Canyon: South Rim to the Colorado, then and towards the North Rim. A journey of wild adventurers: 2 trail bikers traversing the 750 mile Arizona Trail (but hoofing the canyon), 2 dozen rim-to-rim-to-rim runners (42 miles, 1 day), 1 guy toting a kayak, and I was accused to be a paparazzi ~ she laughed then danced a jig after learning I would Photoshop my foolishness as her on the pillar. Gushing river and creeks, wonderful scenery, a stupendous outing.
Pics L->R: (1) Plateau Point Overlook, (2) Ribbon Falls,(3) Fleabane Daisy, (4) Hmmm, (5) Engelmann Prickly-Pear Cactus, (6) 750 Mile AZ Trail Bike Race, (7) Sunflower.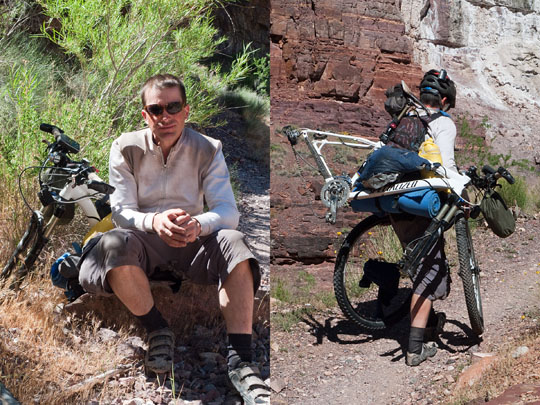 Hoofing the Racing Machine ~ The Grand Canyon offers experiences of strange happenings. At 9AM in the morning of May 7 I chanced upon a crazy person, Mark Caminiti, hauling a bike along the Bright Angle trail. Why should I think him crazy because on this same outing I also observed 2 dozen South-rim-to-North-rim-to-South-rim runners (42 miles, 1 day), a guy toting a kayak, a young lady dancing a jig on top of a stone pillar with an end-of-life drop, and yet another biker on the same rim-to-rim-to-rim path but not officially entered in the race.
Anyway, when I met Mark he was taking a break and told me his amazing story. He was in the 750 mile Arizona Trail bike race which runs from the south near Mexico's border to the north at Utah's border. This segment through the Canyon had to be walked with the bicycle carried per strict National Park Service rules.
Later I learned Mark finished and won the race with a time of 15 days, 15 hours, 37 minutes. Another crazy cyclist, Kurt Refsnider, was also on the path but not an offical entrant. He passed my campsite at 7:40 PM (about 10 hours after I first met Mark), and although I tried to chat with him he was too consumed with his endeavor to stop. I learned his amazing time was 7 days, 6 hours, 37 minutes.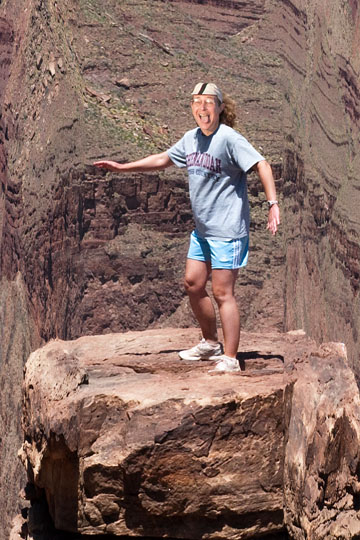 Hmmmm ~ In the afternoon of Monday, May 10, I made my last camp at Indian Gardens Campground. I then rambled out to nearby Plateau Point, a short 3 mile round trip. At the Point I met an athletic young gal who scrambled up a nearby free standing pillar. It was probably no more that 20 feet down, across, and then up, but from my point of view it could have been a mile. Her friend snapped her picture, then I followed suit. She then accused me of being a paparazzi. My quick response quenched her comic disgust when I said "I'm going to Photoshop in my head," and to that she laughed and danced a jig.